Dahua 
NVR4232
-4KS2 
32 
Channel Network Video Recorder (NVR)
The Dahua NVR4232-4KS2 32 Channel Network Video Recorder (NVR) comes with H.265/H.264/MJPEG/MPEG4 codec decoding, Max 320Mbps incoming bandwidth, Up to 12Mp resolution preview&playback, HDMI/VGA simultaneous video output, and 3D intelligent positioning with Dahua PTZ camera. Here Smart H.265+ is the optimized implementation of the H.265 codec that uses a scene-adaptive encoding strategy, dynamic GOP, dynamic ROI. It is a flexible multi-frame reference structure and intelligent noise reduction to deliver high-quality video without straining the network. The Smart H.265+technology reduces bit rate and storage requirements by up to 70% when compared to standard H.265 video compression. The Dahua NVR is compatible with numerous third-party devices, which makes it the perfect solution for surveillance systems that work independently of the video management system (VMS). It features an open architecture that supports multi-user access and is compatible with ONVIF 2.4 protocol, enabling interoperability with 4K cameras. This NVR has a 01-year warranty.
· 32 CH IP Camera Inputs
· Max 200 Mbps Bit rate input
· Compatible with 5Mp, 3Mp, 1080P , 720P & D1
· HDMI& VGA Output up to 1080 P
· 02 HDD ( Up to 2 x 6 TB = 12 TB )
· Full Metal Casing
What is the price of Dahua NVR4232-4KS2 32 Channel NVR in Bangladesh?
The latest price of Dahua NVR4232-4KS2 32 Channel NVR in Bangladesh is 22,000৳. You can buy the Dahua NVR4232-4KS2 32 Channel NVR at best price from our website or visit any of our showrooms.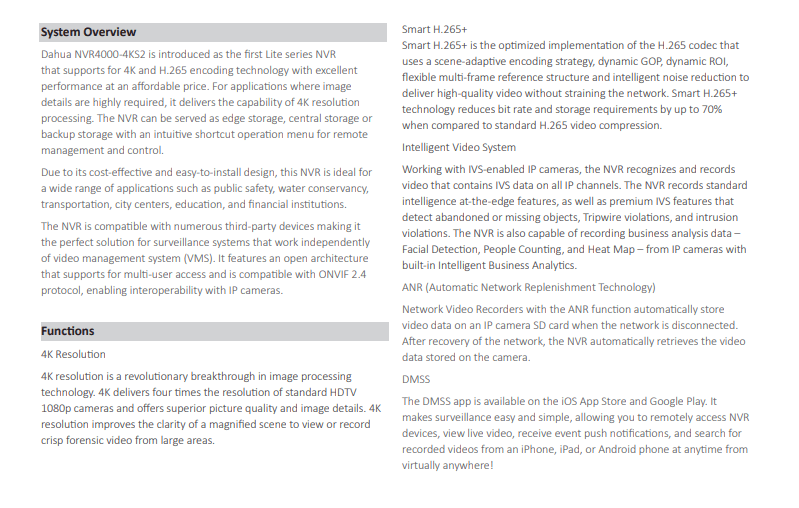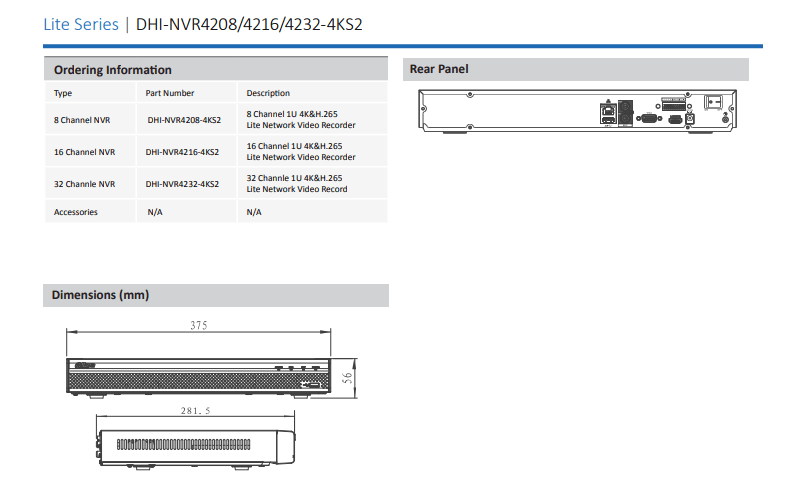 SPECIFICATION
Standard

:

TCP/IP

Supported resolutions

:
32  @ 3840 x 2160 px,
32  @ 3072 x 2048 px,
32  @ 2592 x 1944 px,
32  @ 2048 x 1536 px,
32  @ 1920 x 1080 px,
32  @ 1280 x 960 px,
32  @ 1280 x 720 px,
32  @ 720 x 576 px

Video outputs

:
1 pcs 

HDMI


1 pcs 

VGA

Audio support

:
32 Channels - Audio from cameras

Audio inputs

:
1 pcs Microphone 

CINCH

Audio outputs

:
1 pcs 

CINCH

Image compression method

:

H.265

 / 

H.264

 / 

MJPEG

Maximal total frame rate

:
800 

fps

 @ 3840 x 3160 px,
800 

fps

 @ 3072 x 2048 px,
800 

fps

 @ 2592 x 1944 px,
800 

fps

 @ 2048 x 1536 px,
800 

fps

 @ 1920 x 1080 px,
800 

fps

 @ 1280 x 960 px,
800 

fps

 @ 1280 x 720 px,
800 

fps

 @ 704 x 576 px

Supported hard drives

:
2  x 6 TB 

SATA

Recording modes

:
Manual, Sensor, Motion detection, Schedule

Network protocols

:
HTTP, HTTPS, 

TCP/IP

, 

IPv4/IPv6

, UPnP, RTSP, UDP, SMTP, NTP, DHCP, DNS, IP Filter, PPPoE, DDNS, FTP, IP Search 

ONVIF

 2.4 

External storage devices backup

:
Backup to USB drive (pendrive)

Searching and playback the records

:
Records searching: by time and events type. Records playback: forward, backward, fast, slow
"Frame by Frame" playback function
All channels synchronous playback, Smart Search function

Bitrate

:
200 Mbps (total)

Network functions

:
Full support via network, Remote records copying, Web Server built-in
max. 128 on-line users

Mobile phones support

:
Port no.: 37777 or access by a cloud (P2P)

Android: Free application gDMSS Plus, Android: Free application IMOU
iOS (iPhone): Free application iDMSS Plus, iOS (iPhone): Free application IMOU



See how to configure the P2P function in Dahua recorders and how to enable the mobile application

Default IP address

:
192.168.1.108 

Default admin user / password

:
admin / admin

Web browser access ports

:
80, 37777 

PC client access ports

:
37777 

Mobile client access ports

:
37777 

RTSP URL

:
rtsp://admin:hasło@192.168.1.108:554/cam/realmonitor?channel=1&subtype=0 - Main stream
rtsp://admin:hasło@192.168.1.108:554/cam/realmonitor?channel=1&subtype=1 - Sub stream

Alarm inputs / outputs

:
4 / 2 

PTZ control

:
IP Speed Dome Cameras

Motion Detection

:
22  x 18 motion zones, 6 sensitivity levels

Intelligent Image Analysis

:

Mouse support

:

IR remote controller in the set

:

Power supply

:
12 V 

DC

 / 4 A

Weight

:
1.55 kg

Dimensions

:
375  x 282  x 56 mm

Supported languages

:
English, Polish

Country of origin

:
China

Manufacturer / Brand

:
DAHUA
Payment & Security